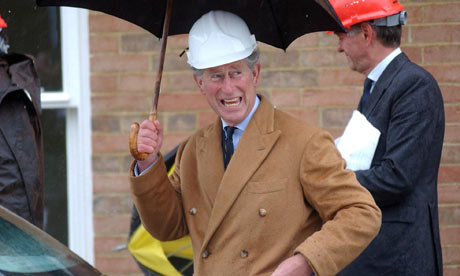 When
Gordon Brown
was campaigning to become prime minister in the early summer of 2007, he announced that he wanted to build more than 100,000 homes in 10 carbon-neutral
ecotowns
to create a "home-owning, asset-owning, wealth-owning democracy".
Royal aides looked on intently at the rapidly changing political landscape, and, eager to keep the Prince of Wales involved in the environmental issues of the day, seized their chance to influence the highest profile policy of the new
Labour
administration.
They moved fast. On 28 June 2007, 24 hours after Brown moved into 10 Downing Street, senior aides at one of
Prince Charles
's charities dispatched a letter about ecotowns to
Hazel Blears
, the Salford MP whom Brown had the day before promoted to secretary of state for communities and local government with responsibility for his town-building policy.
Evidence of the lobbying efforts emerged from a series of requests under the Freedom of Information Act from the Guardian to Whitehall ministries asking them to release correspondence from Charles and aides at his architecture foundation.
It revealed that in the last three years, Charles wrote to ministers in at least eight government departments, and his aides were willing to engage with ministers on overtly political matters, often with success.
Campaigners for the abolition of the
monarchy
believe that ministers are likely to give a letter from the prince's charity almost equal weight to a letter from the prince himself. They believe that all the correspondence should be made public.
"The charity is little more than a soapbox for his views," said Graham Smith, campaign manager for the Republic campaign group. "It promotes his world view, which is quasi-environmental feudalism."

The departments refused to release the letters received from Charles, citing the need for the heir to the throne to be aware of government business and to be able to communicate with ministers on it confidentially.

In the past, Charles is reported to have told Tony Blair that farmers were being treated worse than black and gay people. He also allegedly told the prime minister he was destroying the countryside and urged him to drop the ban on fox-hunting. In another letter to Blair, he urged the government to do more to help families fleeing Robert Mugabe's brutal regime in Zimbabwe.

His former deputy private secretary, Mark Bolland, has described how he saw "on many occasions … letters which, for example, denounced the elected leaders of other countries in extreme terms".